Hands-on Workshops from "Farm-to-Fabric" ~ Our Local Indigo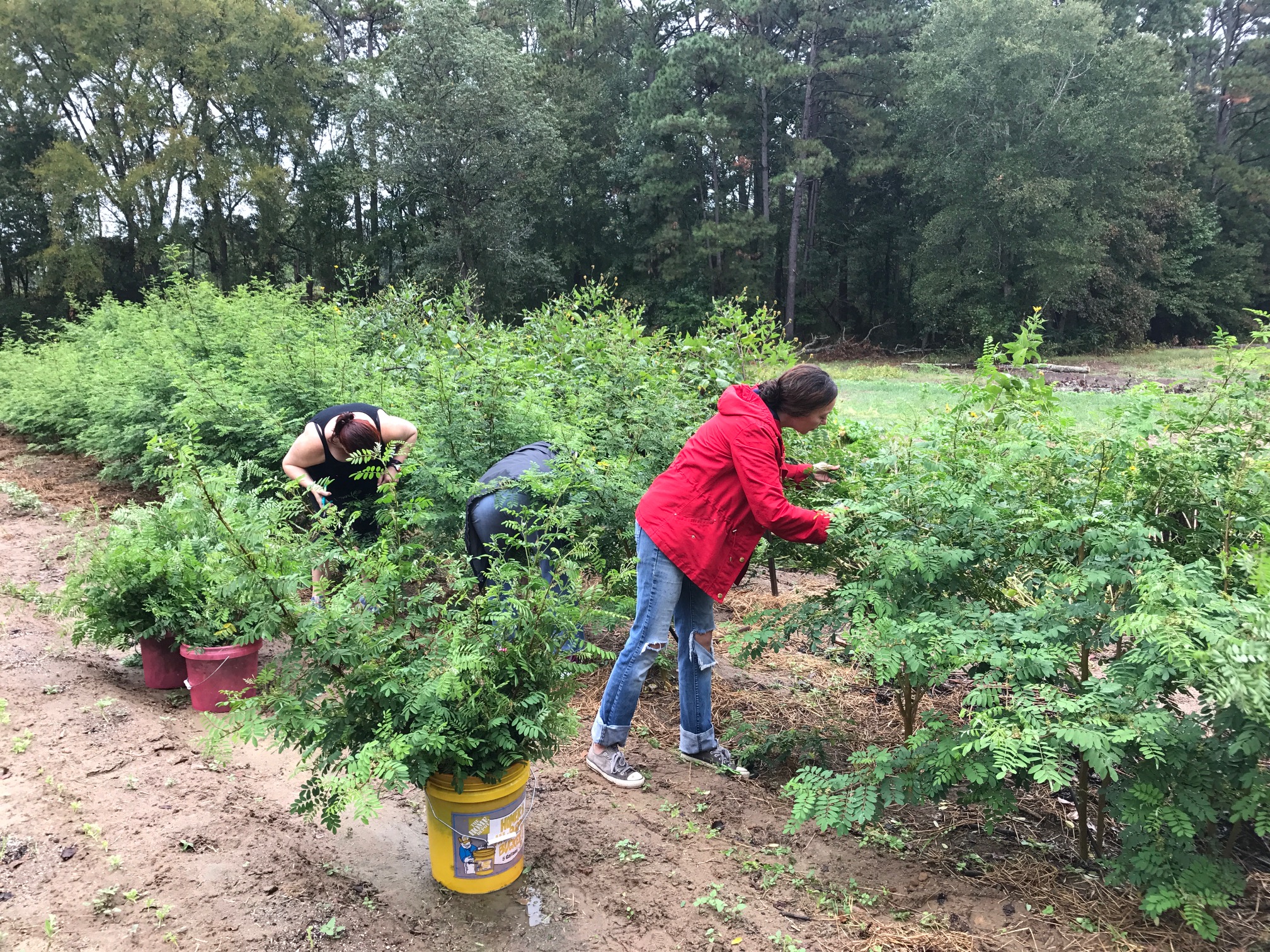 Hands-on Workshops from "Farm-to-Fabric" ~ Our Local Indigo
Edisto Island SC - August 31st, 2019 - SOLD OUT
Green Pond SC - September 29th, 2019 - 6 SPOTS AVAILABLE
Newberry SC - September 14th, 2019 - SOLD OUT
Bluffton SC - October 6th, 2019 - SOLD OUT
Bluffton SC - October 7th, 2019 - 1 SPOTS AVAILABLE
Durham NC - October 12th, 2019 - 9 SPOTS AVAILABLE
A LITTLE HISTORY
Indigofera suffruticosa is the botanical name for our local indigo. It refers to a perennial tree or shrub ­with a woody base and herbaceous top of the pea family native to tropical and subtrop­ical regions of South America.
Indigo has been esteemed and used for thousands of years in its natural form throughout the world. Indigofera suffruticosa as been one of the most commercially-significant sources of indigo dye in history. The plant grows 4 to 6 feet tall, with compound leaves 2 to 3 inches long with many pairs of rounded leaflets. If you tear a leaflet, the cut edges will turn blue. Clusters of tiny coppery pink pea-like flowers are produced in late summer, followed by small curved seedpods.
In 1744, a young woman in South Carolina, Eliza Lucas Pinckney, became the first person to grow indigo successfully in Colonial America, using seeds that her father had sent from the West Indies. American growers were exporting more than 1,000,000 pounds of ­indigo to England just before the American Revolution. The advent of cotton as a cash crop after the war ­and the loss of the British import demand contributed to the demise of indigo production in the United States.
MATERIALS
all material necessary to make the dye from the plant + gloves will be provided

a large cotton dish towel will be provided for you to dye, and you may also bring ONE piece of cotton or silk to dye (small to medium in size) which needs to be scoured before https://botanicalcolors.com/how-to-scour/

you will receive educational materials + a beautiful 8.5x11 printed botanical illustration of our local indigo plant to frame

lunch will be provided (please let us know of any allergies) + refreshments + snacks
PLEASE BRING WITH YOU
your own hand pruners

an old shirt or apron – and please wear old comfortable clothes

closed-toe shoes

bug repellent if the weather is hot and humid

a hat
DAILY PROGRAM
This magical workshop will start at 11am on the field of indigo. After harvesting the top half of the plant, we will go back to the working area and prepare the leaves for the extraction of the dye (a 2 hour process). A lunch will be served. There will be a presentation on the topic of "the old indigo and its revival" and we will prepare the cotton towels before dyeing them in this beautiful "blue of the Heaven".
Workshop starts at 11am and finishes at around 430pm with a break during the day for lunch, presentation and art. More information will be provided closer to time.
Workshop Cost: $150.00 pp
Limit 12 students
* If you prefer to pay in two installments, email at chidesignindigo@gmail.com *
** This workshop is non refundable. If, for medical reasons only, you must cancel, CHI design indigo will refund 75% **